GVO Conference is a part of GVO (Global Virtual Opportunities) formerly Kiosk is a Web Conferencing Software company owned by Joel Therien who has a 12 year track of experience in the network marketing and internet marketing industries.
GVO has rapidly created a big buzz in the internet marketing and the MLM , Network marketing arenas due to the fact that it is the only company online that has the know how and the expertise to join these two very important business models in a once in a lifetime opportunity.
What makes GVO such an incredible business opportunity?
The answer to this question is twofold:
First of all when you get your hosting package through GVO you will get several services like unlimited autoresponder system, complete video marketing system with easy video producer and video hosting, full audio and video conferencing system, downtime monitoring software, that not only are included but that will also mean significant savings compared to buying all these services separately.
Second, you will have the opportunity to participate in a MLM compensation plan that is much more than a simple affiliate program and makes it an entire business in itself, let me explain:
What guarantees that people will stay?
If you have been online for some time and you are serious about building an internet business, you know that in today's market, these are tools that you or any internet marketer can't afford not to have and that you will be using on a daily basis and that is the key that makes the compensation plan a very successful one.
With this business model you will build an organization of avid and constant users who will be using the services everyday to run their businesses and therefore will be happy to keep paying their monthly fee!
What is the benefit of Joining GVO Conference ?
A full audio and video communications tool!
Use the conference software as  presentation mode while running video conference and audio conference. Complete desktop sharing capabilities. Record your session with the click of a mouse and so much more. This is a must for anyone doing business online or working long distance. Open up your market on a global scale. Keep your team leaders, customers, business associates and members informed and on the same page. Help your children with homework while away to University or College. Talk and see your grandchildren grow up who live hundreds of miles away. Stay on top of your life and on top of your business with GVO Conference!
Conference room features

AUDIO/VIDEO CONTROLLERS

Disable or enable web cam or microphone

TALK NOW

Click to enable voice to be broadcast to members logged into your conference room.

HANDS FREE

Moderator can click tab to speak hands free

MUTE CURRENT SPEAKER

Moderator can mute guest speaker

REMOVE CURRENT SPEAKER

Moderator can remove guest speaker from room

BAN CURRENT SPEAKER

Moderator can remove guest speaker from room

COMPATIBLE WITH ALL OPERATING SYSTEMS

Windows/Linux/Mac

CHAT

Text message all guests

CLEAR TEXT CHAT

Moderator can clear all text chat posted

BROWSER SIDE TABS

Expands browser window size

MEMBERS

Lists all guests present in room

SETTINGS

Systems settings for conference room set up

ACCESS TO SHARED FILES

Send files to guests in room

1-1 FULL DUPLEX

Enable MODERATOR to go into a private video and audio conversation with an end user.

DESKTOP SHARING

Moderator can display desktop to end users

FLAGS

Moderator can see country flag to members location

PRESENTATION

Converts and presents your Power Point

SHOW

Live streaming video

RECORD

Moderator can record full audio/video of presentation

5 ROOM PACKAGE OWNERS ONLY!

Your extra rooms displayed in bottom right box. Drag and drop members into other rooms created on your account

ISSUE MODERATOR FUNCTIONS

Moderator can issue moderator functions to end-user

MULTIPLE MODERATORS

Create multiple moderators for your live events

IN-BUILT VIDEO PLAYER

Broadcast video and movies to your end-users

COMPLETE VOTE MODULE

Take live on the spot poles
INTERNATIONAL COMMUNICATION – ONLINE TRAINING OR SUPPORT – PRODUCT LAUNCHES AND DEMONSTRATIONS – STAY CONNECTED TO FAMILY LONG DISTANCE – AND SO MUCH MORE…
FOLLOWED BY THE BEST OPPORTUNITY AND COMPENSATION PLAN IN THE INDUSTRY! COLLECT RESIDUAL COMMISSIONS FOR LIFE BY REFERRING PAID CLIENTS TO GVO CONFERENCE!
GVO conference gives you the opportunity to earn residual monthly commissions on any paid client you refer into our conferencing program. We allow our affiliates to achieve the highest levels of payments very quickly!
| | |
| --- | --- |
| 1. | To get paid down 2 levels, GVO conference requires that you have 2 direct referrals. You must sign up 2 people in order to get paid down 2 levels. |
| | |
| --- | --- |
| 2. | To be paid down the full 5 levels, we require that you have 4 direct referrals. You must sign up 4 people in order to get paid down the full 5 levels. |
| | |
| --- | --- |
| 3. | You will receive 10% on personal sales to customers who purchase one of our conferencing packages by GVO conference. (Level 1) |
| | |
| --- | --- |
| 4. | You will receive 10% on any personally sponsored affiliate sales through levels 1-5. |
| | |
| --- | --- |
| 5. | You will also collect 10% on anyone that your direct sales (direct referrals) bring into GVO conference through levels 2-5. |
6.

QUICK STARTS BONUS:

To put money in your pocket fast! We pay a very healthy 50% commission on the first month of all your new paid direct sales. Example: You sign up 10 people in one month; you would receive 50% commission on those people, plus all your existing commissions on all the people that fall into your matrix!
7.

MATCHING CHECK BONUS:

Any paid direct sales (direct referral) you will collect a 20% matching check commission on their total sales. Example: If one of your direct sale (direct referrals) accumulates $2000 in downline commissions, you will collect an extra $400 in that month on top of your regular commissions.
8.

BONUS POOL:

If you are in one of the top 10 spots on our leader board for overall monthly sales. You will collect on part of our 10% monthly NET profits.
Let GVO conference bring the world closer to you…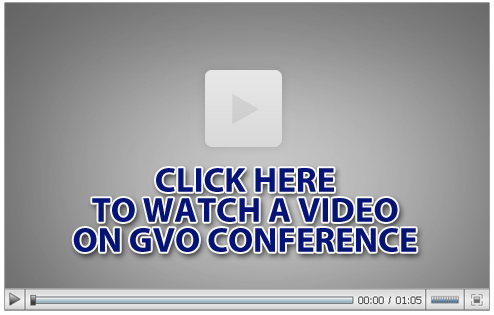 EVERYTHING YOU NEED TO SUCCEED ONLINE IS INCLUDED
IN YOUR MEMBERSHIP!!
HERE'S A SUMMARY OF THIS FANTASTIC OFFER!